TestDaF Preparation
Sign up to our next TestDaF Preparation Course! The registration form can be found here
.
TestDaF Examination Dates
The current TestDaF examination dates can be found here here
.
Project "University without borders"
The Ruhr University Bochum (RUB) is committed to active and sustainable integration of refugees. Read more
.
Contact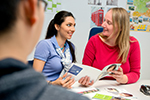 Informations- und Beratungsbüro
Fon +49 (0)234 32 27866
daf-info@rub.de
Our Office Hours
Weiterlesen
International Office
International Office
Ruhr-Universität Bochum
Building Studierenden-Service-Center (SSC)
Universitätsstr. 150
44780 Bochum
Weiterlesen
You are important to us! So please: Hold on, keep your distance, keep your hands clean, stay healthy!
#flattenthecurve #stayathome

ATTENTION!
We currently offer online courses in the areas of TestDaF and study preparation. Our courses in preparation for university studies starting in April and July 2020 are offered as online courses only. The same applies to our courses for TestDaF preparation. A personal presence here in Bochum is not necessary. Before planning a trip to Bochum please contact our office in any case.

You can find more information under "News"!

Due to the cyber attack technical problems occur. Our online-course are running as planned. Unfortunately, you may have difficulties to reach us via mail. We apologize for the inconvenience.

Please note that the departmental office does not offer office hours until further notice. With this we are following the request of the crisis staff of the Ruhr-University Bochum. Instead, we are expanding the online consultation hour. You can find further information on this page@rub.de.

If you urgently need a course certification, please send us an e-mail to daf-info@rub.de and indicate which course you attended in which semester, as well as your matriculation number. Please use your university e-mail address exclusively.

More information RUB
Coronavirus: more information in several languages